Make sure to put 110% into tidying up your house when trying to sell your Stuart, Florida home and showing it to potential buyers. We can not stress this one enough. To help out, it is not uncommon for a seller to initially hire a cleaning service to clean their Stuart home for sale. Just make sure to maintain this cleanliness.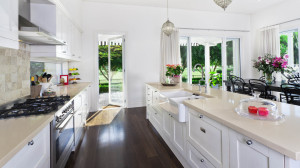 This may seem to be an obvious point and an automatic behavior, such as breathing air, but one too many times, when buyers make a surprise visit, there are usually homeowner items left out or personal things not put away properly. This can and will be minor to the homeowner, but unfortunately this can be an eyesore to the potential buyer.
Even worse and on top of this is that this "tiny mess" can create a perception to buyers that there may be other issues with the house which is not visible to the naked eye and perhaps feel the seller is hiding potential issues. Think of it this way, buyers are always judging the home's "cover" instantly and base their first impression on the way its taken care of.
Don't give a buyer any reason to believe you as the homeowner didn't maintain the home in perfect condition. Doing so will more than likely not lead to an offer. A home buyer doesn't want future problems with such a huge investment. Do you see how such a minor thing such as not taking out the garbage, vacuuming, leaving dirty dishes out, dirty laundry, or leaving mail/paperwork on the counter can lead to a major outcome?
It may seem extreme to hear this, but by taking care of the house and being clean and showing a home in tip-top shape will more than likely provide a buyer with the sense to feel the seller has taken care of the house and alleviates many worries. This will ease a buyer into trusting that the home for sale is "move-in ready" without feeling there are numerous repairs to perform. Inspections will indeed uncover any necessary repairs, but its this first initial impression you want to pass with flying colors when a buyer walks through your door.
Now, yes, most homeowners clean their homes and follow their Realtor's advice to help sell their home, yet it is understandable to know that we all get a little lazy. The point is, the seller must always make sure their home looks and feels like a model home, no matter what. Plus, purchasing pretty decorations or home decor items such as flowers, center-pieces, candles, picture wall frames, etc, will help to spice up your home and make it appear as a model home, which in turn assists buyers to visualize what their home can possibly look like. Spending a little money will definitely help make you get the higher priced offer you deserve.
Check out our other article of how to easily make your Stuart home feel like a newly built model home. By combining both strategies and keeping on top of the cleaning and being neat will definitely help sell your Stuart home faster and at a higher price.