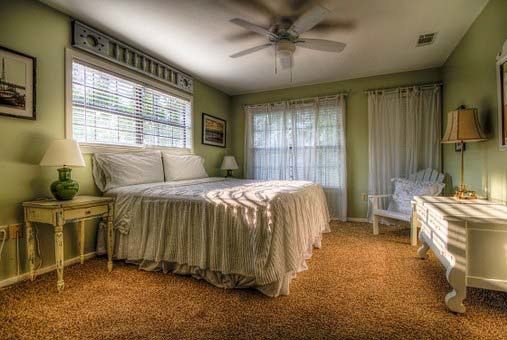 If you're looking to transform your bath and bedroom into cozy, attractive spaces without putting a lot of pressure on your home decorating budget (or straining your design acumen), consider the impact that simple, affordable decor improvements can make. So if you're contemplating a bed and bath upgrade in the near future, consider small-scale improvements emphasizing elements, such as linens, curtains, hand towels, and other small items.
Declutter
Getting rid of stuff you no longer want or need before adding new design elements is a wise move, so spend some time decluttering before putting your grand design vision into action. It's a good way to alleviate stress, as clutter is a significant cause of stress and anxiety. Decluttering is a process that forces you to make decisions about your belongings. If you're not quite sure what to do about a piece of furniture or an old book rack your mother gave you, consider putting it into storage until you can decide. It's a cost-effective way to free up space; the average cost of a storage unit in Stuart, Florida, over the past six months was $112.82.
A Hip Bath Mat
Your bath mat is one of those aesthetic black holes that always seem to get short shrift. Think of your bath mat as another opportunity to make a statement, one that pairs well with the color scheme of your towels, curtains, and other design accents, not just a utilitarian item you once "liberated" from your hotel on vacation in 1992. For $7.99 at Amazon, you can find a soft, colorful bath mat with memory foam, a feature that's both warm and comfortable and makes a much better visual impression than a frayed white mat.
A Shower Curtain That Stands Out
In most bathrooms, the opportunities to establish a single, dominant visual element are pretty limited. A shower curtain that really pops may be your best chance to add something that pulls the room together. But if you're tired of versions that look like something your grandmother used to cover her favorite easy chair, why not hang a curtain that's fun and visually arresting? Visitors will be drawn to yellow rubber ducks, an outline of Australia, the Union Jack or images of fruit (Urban Outfitters has a shower curtain with pink and orange peaches for just $39).
Towels
Consider adding some bath towels that are as pretty as they are plush and warm. Towels can be as aesthetically pleasing as they are functional, so spend time online looking for designs and colors that suit your design vision as well as your idea of "thirsty" towels. While you're at it, pick up some complementary hand towels and washcloths.
Bedroom Curtains
If your bedroom is a mish-mash of colors and styles, your best bet might be to add neutral-colored curtains to your bedroom windows, emphasizing gray, white/off-white, or tan. Floor-length curtains add a degree of elegance, while copper-colored rods add a classy look and dress up the neutral color scheme a bit.
Add Greenery
Houseplants are healthy and they make a refreshing, natural addition to your sleep space. Not only are they nice from a visual standpoint, but they also remove toxins from your breathing air, which definitely benefits the bedroom. Of course, you'll have to care for your plants, making sure they have enough water and sunlight, but they'll pay you back for it.
Classy Mirror
If your bedroom is short on square footage, you can make it feel roomier by hanging an antique mirror that lends a classic look. Add some light and flair by dangling some string lights. Small decor upgrades can do a lot to transform a bedroom and bathroom by adding light and the impression of space. It's also an opportunity to do something a little fun and funky that might not work in other parts of your home. Have fun with it, and don't be afraid to use your creativity!
Image courtesy of Pixabay