​Crystal Pointe Offers Much To Do In Palm Beach Gardens
Welcome to Crystal Pointe, an exclusive residential community nestled in the heart of Palm Beach Gardens, Florida. The community is situated off Prosperity Farms Road, south of Hood Road and north of PGA Boulevard. It is in close proximity to other notable communities and landmarks in Palm Beach Gardens, such as BallenIsles, Mirasol, and the Gardens Mall. With its prime location, stunning homes, and array of amenities, Crystal Pointe offers a luxurious and vibrant lifestyle for residents seeking the best of coastal living. Let's explore what makes Crystal Pointe a coveted destination for homebuyers in Palm Beach Gardens.
Crystal Pointe has a Prime Location
Crystal Pointe enjoys an enviable location in Palm Beach Gardens, renowned for its picturesque landscapes, world-class golf courses, upscale shopping, and fine dining. Situated just minutes away from the pristine beaches of the Atlantic Ocean, residents of Crystal Pointe can soak up the sun, indulge in water sports, or simply take a leisurely stroll along the shoreline. The community also offers convenient access to major highways, making it easy to explore nearby cities and attractions.
Palm Beach Gardens Exquisite Homes
Crystal Pointe showcases a diverse range of elegant homes that cater to varying lifestyles and preferences. The community features a mix of single-family homes and townhouses, each meticulously designed and crafted to offer the utmost in comfort and style. From spacious layouts to high-end finishes, residents can expect nothing less than exceptional quality in their homes. Many residences boast private pools, lush landscaping, and beautiful lake or garden views, creating a serene and tranquil atmosphere.
Resort-Style Amenities of Crystal Pointe
Living in Crystal Pointe means having access to an impressive array of amenities that make everyday life feel like a vacation. The community boasts a clubhouse, where residents can gather for social events or host private celebrations. Take a refreshing dip in the sparkling swimming pool or challenge friends to a game of tennis on the community courts. There are also scenic walking trails that wind through the neighborhood, perfect for leisurely strolls or morning jogs. Crystal Pointe truly offers a resort-style experience within the comfort of your own community.
Palm Beach Gardens Lifestyle
As a resident of Crystal Pointe, you'll have the opportunity to immerse yourself in the vibrant Palm Beach Gardens lifestyle. The city is renowned for its golfing culture, with numerous world-class courses to choose from. Enjoy upscale shopping at the nearby Gardens Mall, which features an impressive selection of luxury brands and dining options. The city also hosts a variety of cultural events, art festivals, and outdoor concerts throughout the year, ensuring there is always something to see and do.
Discover the homes for sale in Crystal Pointe
Crystal Pointe in Palm Beach Gardens offers an exceptional living experience for those seeking luxury, convenience, and a vibrant coastal lifestyle. With its prime location, exquisite homes, and resort-style amenities, this exclusive community provides residents with the best that Palm Beach Gardens has to offer. If you're in search of an upscale community that seamlessly blends tranquility with excitement, look no further than Crystal Pointe.
Come and discover the allure of Crystal Pointe – your gateway to a refined and vibrant Palm Beach Gardens lifestyle.
Overall, Crystal Pointe is an excellent place to move to for those looking for a modern and family-friendly neighborhood with a great location, beautiful surroundings, and sustainable living.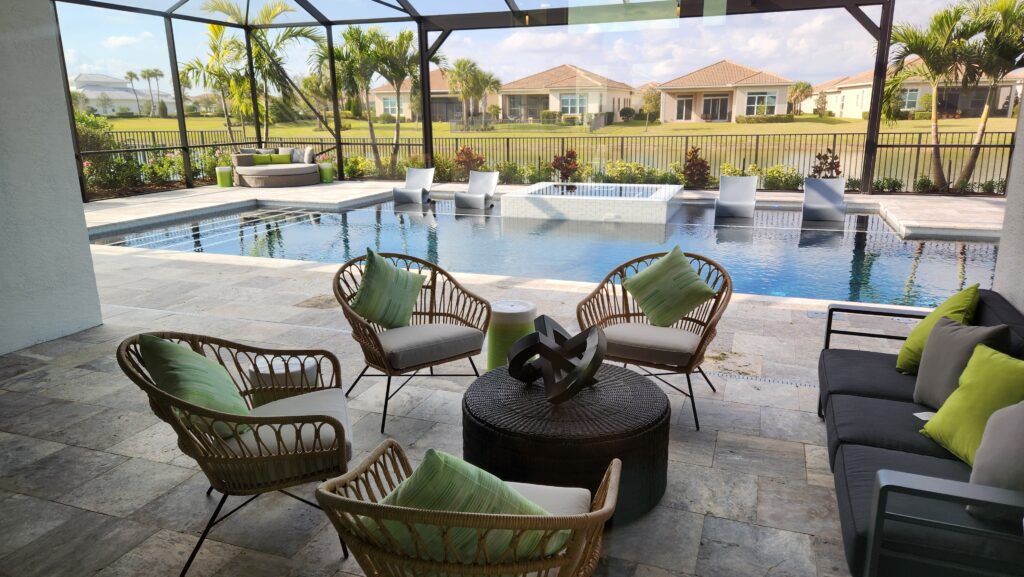 [Disclaimer: This blog post is for informational purposes only. Please contact a real estate agent or visit the Crystal Pointe community for the most accurate and up-to-date information about available properties, amenities, and community guidelines.]