Buyer Resources for Real Estate
---
We created a series of helpful resources to help you understand the process of buying Treasure Coast Property.
Tools for Buying Real Estate
Articles for Buying Real Estate
Moving and Relocating Services
Questions and Answers
New Real Estate Construction
Our family of Stuart real estate professionals help local and relocating Treasure Coast residents grasp the dream of owning a new home on prime Treasure Coast of Florida real estate. We can do the same for you. Plus, you can now search one of our local Treasure Coast builders in the area for vacant land lots and newly constructed homes.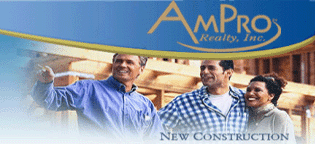 Building and buying a newly constructed house is a distinctive process that's much different than the traditional real estate transaction. It takes special skills, training, resources and know-how to make it happen. See why it takes an AmPro Realty make the dream of a new home reality by contacting us to guide you.
Our Stuart Florida real estate company represents top builders and developers equipped with unparalleled resources. We understand each home buyer has a unique set of needs and they're experts at meeting those needs. We strive to match each individual with their ideal home, whether it's a custom home, a townhome, a condominium or the unique lifestyle and experience of living in a golf course community. The biggest benefit of working alongside a Stuart new custom home builder is being able to get exactly what you want.
By bringing home buyers together with the builders who are designing and building the area's most exciting new homes and communities, AmPro Realty is leading the way in making Treasure Coast real estate the nation's most dynamic and desirable places to live.
We will make buying a home an enjoyable experience and easier for you. Each of our local Stuart realtors have powerful tools and techniques to help find your dream property from a wide variety of sellers within our featured Treasure Coast real estate listings including the Martin County MLS.
Use our helpful resources on the right for tools, guidance and advice in buying your real estate. Or request our Relocation Guide for moving, renting, buying or selling Stuart real estate, booking travel and more!
Let us help you find your dream home and assure your best interests are protected throughout the entire process. An AmPro Realty Stuart Florida realtor will gladly provide assistance for any questions… just click here.